Hangzhou dishes are best representative of Zhejiang cuisine, which is one of the eight representative local cuisines of China. Hangzhou dishes are noted for its elaborate preparations, sophisticated way of cooking and its most refreshing taste. It is not only delicious, but extremely elegant in appearance also so beautiful as to equal the Hangzhou landscape.

Featured Cuisine

There are more than 40 famous Hangzhou dishes, including West Lake Sour Fish, Beggar's Chicken, Fish head and Bean Curd, Dongpo Pork, Shrimp Meat with Dragon Well Tea, West Lake Water Shield Soup, and Sister Song's Fish Soup.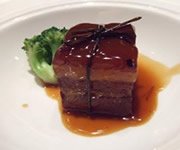 Dongpo Pork (Dong Po Rou)
Extraordinarily fatty (around a 50-50 fat-meat ratio), and thus extraordinarily flavorful, good Dongpo rou is not greasy, but rather melts on the tongue.
Credit for the dish is given to Su Dongpo, a well-known author and poet during the Song Dynasty, to whom the people made a gift of wine and pigs for his faithful service as governor. Accepting the gift, Su Dongpo ordered his men to cook up the meat, then turn around and serve it back to the people. The pleased citizens of Hangzhou named the dish after him.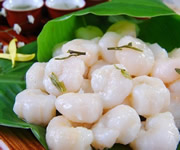 Dragon Well Shrimp with Tea (Long Jing Xia Ren)

Chalk full of delicate white shrimp, green lotus shoots, and flavored with Dragon Well tea, this dish is pleasing in color and titillating to the taste buds. It is said that this dish was created by accident when a Hangzhou chef spilled Dragon Well tea into a boiling pot of shrimp.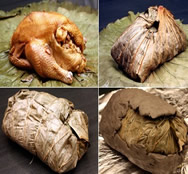 Beggar's Chicken (Jiao Hua Ji)

There are several versions of the myth surrounding the origins of Beggar's Chicken. Some suggest that a Hangzhou thief, lacking a stove to cook his stolen chicken, wrapped it in leaves and dug an oven in the ground in order to bake it; others say the thief wanted to conceal the odor of the roasting bird from hungry noses; while still others insist that a beggar covered the chicken with mud and tossed it into the fire. But no matter which version you believe, they all agree on one point: the sealed chicken retained its flavor and juices.
The West Lake Fish (Xihu Cu Yu)

This dish chooses Kun fish in the West Lake as the raw material. When cooking it, fire and time is very strict. Within 3 to 4 minutes, the fish should be cooked well, and then, water some sweet and sour on the fish. It tastes delicious.