Day 1
Place&Transport: Hangzhou
Today's Activities: Broken Bridge,Long Bridge,Xiling Bridge,Yanggong Causeway,Wansong Academy,Yuanyuan Folk Park,Yue Lao Temple
Accommondation: N/A
Meal: N/A
Hangzhou known as a destination of love. With its abundance of romantic scenery, is also the story teller of many legendary tales. For thousands of years, it is in this land that the Chinese equivalent of Romeo and Juliet– Liang Shangbo and Zhu Yingtai fell in love, the legendary love story of Xu Xian and the White Snake took place and the famous concubine Su Xiaoxiao devoted herself to love.
As we all know legend is not real but the reality is that any story where love is concerned can touch your heart, making something fairytale-like seem truly unbelievable.Take this Hangzhou Day Trip of Love with our hangzhou professional tour guide.You will find out!!!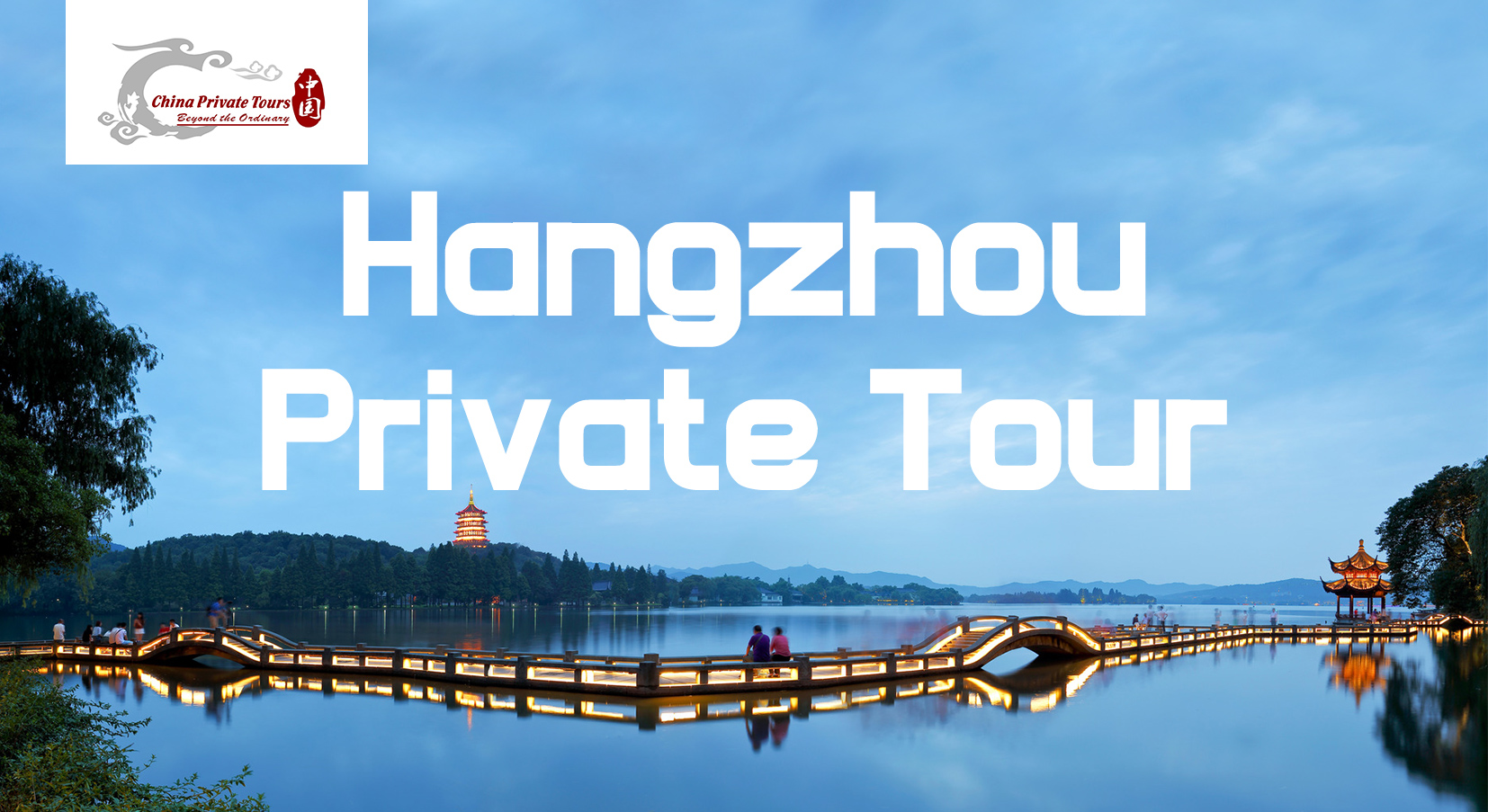 First, visit some lovers bridges around westlake:
Lovers Bridges
Known to locals as 'Lovers Bridges'; Broken Bridge (??), Long Bridge (??) and Xiling Bridge (???) are three of Hangzhou's most romantic bridges, where lovers have been known to meet, reunite and gaze out from and into the heart of Hangzhou.
Of the three, Broken Bridge enjoys the greatest reputation, as its appearance when covered in snow resembles a 'Broken Bridge'. It is also the platform where Xu Xian and White Snake, two legendary figures, met and departed. Returning to the bridge after she was rejected, White Snake sang in true operatic style "The Bridge is not broken, but my heart is". One of the top ten views of the west lake, the bridge may be called broken but it is most certainly one of the most romantic and beautiful fixed spots in Hangzhou city.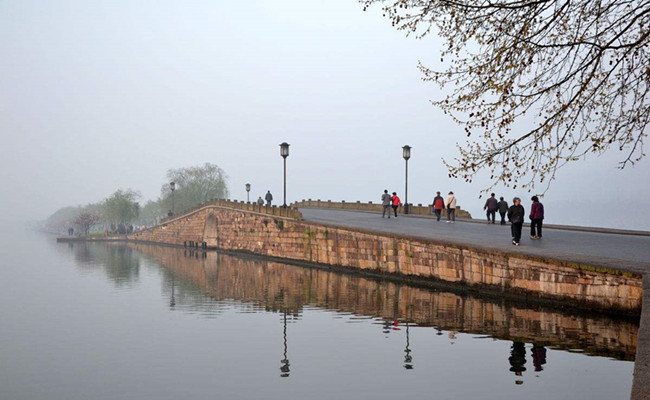 The so-called Long Bridge is in fact the shortest of all the bridges around the West Lake but is the best vantage point in which to view the city's landmark Leifeng Pagoda, which elegantly towers above the glistening West Lake. The bridge, only 3m long, is known as the long bridge because in the legend of 'the Butterfly Lovers' the young couple, not wanting to leave each other, walk the length of the bridge 36 times making it as long as 9 kilometers.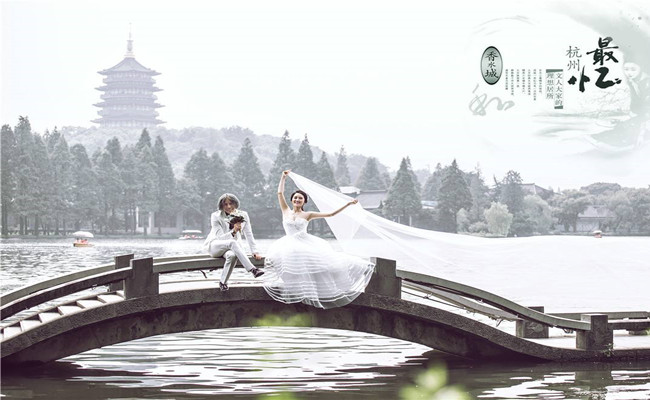 Xiling Bridge is the most sentimental of the three as it is lovingly and loyally associated with Su Xiaoxiao, a literary figure who was regarded as beautiful as a lotus growing on the West Lake. It was on Xiling Bridge that Su Xiaoxiao met the love of her life, a rich boy named Ruan Yu. However after marrying her, Ruan Yu soon abandoned her for his father, which led to Su Xiaoxiao dying of a broken heart. Buried near the bridge Su Xiaoxiao, and her true love story, has attracted many admirers and Xiling Bridge is now a symbol of her love and devotion.

Later,walk along the Yanggong Causeway. As a landmark of the West Lake and the most famous counterpart of Bai Causeway and Su Causeway, Yanggong Causeway is, with its 'Breeze-ruffled Lotus at Quyuan Garden', Flower Nursery, Maojiabu, Turtle Pool, Yihu Bay and 'Viewing Fish at Flower Pond', one of the most serene and romantically positioned avenues to border the tranquil waters of the West Lake. Offering unparalleled scenery as well as privacy for courting couples, Yanggong Causeway is also one of the best places to shoot wedding photos, where two hearts and a number of fond memories can be captured forever.
After lunch, drive to Wansong Academy.Wansong Academy during the 13th-20th century was the master of all academies and at that time was also the largest and most influential school of its kind. Despite the record number of scholars who studied here, Wansong Academy is most famous for teaching Liang Shanbo and Zhu Yingtai, two mediocre students who poetically speaking became known as the Chinese equivalent of Romeo and Juliet. It was here in Wansong Academy that the hearts of the two butterfly lovers began to flutter and it is also the same place many years later that has become known for its matchmaking in Hangzhou.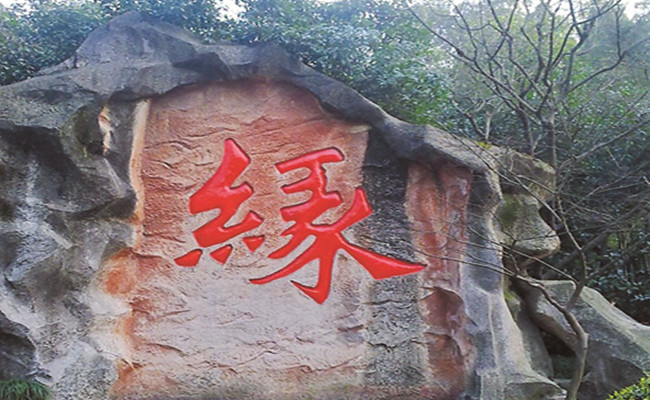 Continuing on,visit the Yuanyuan Folk Park.Yuan in Chinese can mean "predestined relationship," and the park is famous for parental matchmaking. Hundreds of middle-aged parents post profiles of their children on walls and trees in the park, asking each other for their child''s gender, age, career and hobbies, and listing phone numbers for further contact.
The parents attempt to arrange blind dates for their sons or daughters who have not found their Mr Right or Mrs Right and who may be in or reaching their late 20s or 30s, an age traditionally believed past the best years to get married. Since the children usually feel too embarrassed to show up at the park themselves, their parents take it upon themselves to help them look for possible soul mates in the park.
At last,visit the Yue Lao Temple. According to Chinese myth, the ancient matchmaking god called Yue Lao was in charge of marriage. He tied an invisible red string around the ankles of men and women who are destined to marry each other in the future. The two people connected by the red thread were destined to be lovers, regardless of time, place or circumstance. This magical cord might stretch or tangle, but never break.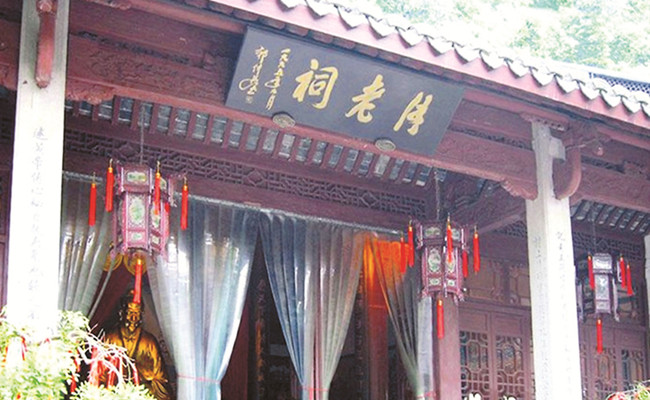 The Yue Lao Temple is dedicated to this matchmaking god. Although it is quite small, legend has it that it is very effective and as a result it is crowded with people praying for relationships and marriage. In the center of the temple stands a golden statue of Yue Lao. Under the statue, there are several boxes containing objects for drawing lots to determine the fate of relationships, marriages, fortune and offspring. From those boxes one can draw lots, inscribed with a number.
At the end, drive you back to your hotel or the Hangzhou Train station and your Hangzhou Trip ends.
How Our Teams Serve you at China Private Tour
1-on-1 Travel Consultant
Our travel consultants have been working in local tourism for years, they are professional, experienced and responsible sharing our wealth of knowledge to plan your trip. They will formulate customized tour plan based on your travel interests, time, and budget as well as providing professional suggestions. Beside, they will keep in contact with you during your entire tour in China, continually checking if everything is going well as planned.
Excellent Local Guides
All of our tour guides are certificated and experienced. They are local experts with detailed knowledge about attractions, history, culture but also prepared to talk frankly about whatever topic interests you. They know the best places to visit, can give you advice on restaurants that serve great local food, the best places to shop, or theaters for the best shows in town. They'll show you more about the history, culture, customs and authentic local life.
Private Car and Driver
We ensure that all of the vehicles that we use are air-conditioned, non-smoking, clean and well-maintained.(Not over 4 years). Our drivers are are local, polite, friendly and helpful with over 10-year drive experience. All kinds of vehicle are offered, and yours depends on the size of your group. Usually, we offer sedan cars, SUVs, business vans (MPV) and different types of buses, all with extra space for your luggage.
Meals & Dining
If the meals are included in the itinerary. We will take you to the best local restaurants and help you order dishes according to your preference on spot to guarantee that the food is freash not pre-cooked. Some meals excluded in your itinerary as you like, your private guide will be still delighted to give you some suggestions and take you to the local featured restaurants every week based on the online reviews of customers. We have a large selection of different restaurants which cater to the specifications of our customers, and are available to provide various options, such as vegetarian, Muslim, Chinese, Western, Jewish, and Indian restaurants.
Price Per Person in US Dollars