Day 1
Place&Transport: Hangzhou
Today's Activities: Broken Bridge-Bai Causeway- Solitary Hill -Su Causeway
Accommondation: N/A
Meal: N/A
While traffic in Hangzhou may seem chaotic to some foreigners, the city is comparably bike-friendly. All but small side roads have dedicated bike lanes, often divided from motor traffic by barricades or medians.

Traveling by bike combines sightseeing with sports and health. You can have more freedom to travel and ride in an environmentally friendly way. You'll experience more of the people of China and experience more of nature. Hangzhou is a city that is known for its relatively clean environment, relatively high standard of living, and the natural scenic places nearby.
For longer stays in Hangzhou, making use of the city's extensive public bike system can be a cheap and convenient way to experience the city.
In the morning you will be picked up at your hotel and take a taxi to Public Bicycle Service near by the No.1 Park to rent a bike.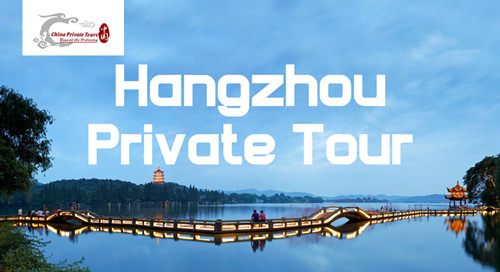 Our Pick up sign" Hangzhou Private Tour"
The Route:
Start Point: Broken Bridge or your hotel in Hangzhou Down Town
Broken Bridge-Bai Causeway- Solitary Hill -Su Causeway
Finishing Point: Su causeway or your hotel in Hangzhou Down
Distance: 5.4 KM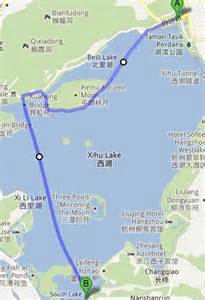 The Route Introduction:
Starting with Hangzhou's iconic, lake-traversing bridege- Broken Bridge! Heading to west, past by the famous causeway-Bai Causeway. On the Bai causeway, you can visit the Zhejiang Provincial Mesum to know the entire history, culture of Hangzhou. Later, the Pinhu Autumn Moon which is the best place to look at the moon for the Mid-autumn Festival. A visit to The Temple of General Yue Fei (???) is also a good choice to know this great general in Hangzhou in the song Dynasty.
Next, ride toward the much longer and more serene Su Causeway, whose entire tree-lined length runs across West Lake.
This route travels across the famed Broken Bridge, onto Gushan Island, where you can visit numerous museums, nature trails and the renowned Louwailou restaurant, which specializes in Hangzhou cuisine.
This area offers a multitude of rewarding photo ops while traversing stone arch bridges.
Points of interest:
- Broken Bridge: – one of the Top 10 scenic spots, where the romantic legend of "Xuxian and Lady Snake" originated. Our experienced guides will tell you much more behind the ancient bridge, such as the origin of its unusual name.
- Bai Causeway, Solitary Hill – the story "Plum Wife and Crane Son" takes place on the hill. Lin Bu, also called Lin Hejing, was a real hermit and a talented poet in the Northern Song Dynasty.
On the top of the solitary hill is XiLing Seal Engravers Society, an academic community devoted to the study of inscription and seal-cutting. Founded in 1908 under the leadership of Wu Changshuo, the society was soon popular and developed into a famous center of seal-cutting, painting, and calligraphy.
The Su Causeway-was built in the fifth year of Yuanyou Period in the Northern Song Dynasty (1090) and has evolved since then. At that time, Su Shi (Dongpo), a poet known as the prefect in Hangzhou Prefecture, had the West Lake dredged, and built the Su Causeway by dredged silt. To commemorate Su Dongpo's achievements in controlling the West Lake, it is named as "Su Causeway". Since the Southern Song Dynasty, Spring Dawn on the Su Causeway has ranked the top among the "Ten Views of the West Lake". Built above horizontal waves, the long Causeway links the South Mountain and the North Mountain, adding a charming landscape for the West Lake.
Returen the biks to the bike station and you will transfer back to your hotel or the Hangzhou train station by taxi and your tour ends.
How Our Teams Serve you at China Private Tour
1-on-1 Travel Consultant
Our travel consultants have been working in local tourism for years, they are professional, experienced and responsible sharing our wealth of knowledge to plan your trip. They will formulate customized tour plan based on your travel interests, time, and budget as well as providing professional suggestions. Beside, they will keep in contact with you during your entire tour in China, continually checking if everything is going well as planned.
Excellent Local Guides
All of our tour guides are certificated and experienced. They are local experts with detailed knowledge about attractions, history, culture but also prepared to talk frankly about whatever topic interests you. They know the best places to visit, can give you advice on restaurants that serve great local food, the best places to shop, or theaters for the best shows in town. They'll show you more about the history, culture, customs and authentic local life.
Private Car and Driver
We ensure that all of the vehicles that we use are air-conditioned, non-smoking, clean and well-maintained.(Not over 4 years). Our drivers are are local, polite, friendly and helpful with over 10-year drive experience. All kinds of vehicle are offered, and yours depends on the size of your group. Usually, we offer sedan cars, SUVs, business vans (MPV) and different types of buses, all with extra space for your luggage.
Meals & Dining
If the meals are included in the itinerary. We will take you to the best local restaurants and help you order dishes according to your preference on spot to guarantee that the food is freash not pre-cooked. Some meals excluded in your itinerary as you like, your private guide will be still delighted to give you some suggestions and take you to the local featured restaurants every week based on the online reviews of customers. We have a large selection of different restaurants which cater to the specifications of our customers, and are available to provide various options, such as vegetarian, Muslim, Chinese, Western, Jewish, and Indian restaurants.
Price Per Person in US Dollars